Apprentices Live – Essity
A live Q&A session with Tom Hardman a Controller Apprentice from Essity
I have registered for the on demand
I need to register for the on demand
Register now
This session will cover:
A live Q&A with Tom Hardman, a controller apprentice at Essity.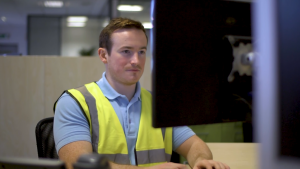 "My role at Essity requires me to assist the site financial controller with all matters relating to the movement of finances within the site and externally. I assist in preparation of annual budgets and creating non-financial KPI's for the production teams. I assist with month end processes and help track spending by operations on a weekly basis."
Details of apprenticeships at Essity:-
4 year apprenticeships with the first year spent full time at college and the remaining three years are based on day-release. They initially work to the new UK standard of MOET (Maintenance Operation Engineering Technician, and then these apprenticeships are then supported beyond this level up to HNC level.
Multi-skilled Engineering apprenticeships
Electrical and Instrumentation Engineering apprenticeships
Mechanical Engineering apprenticeships
3 year apprenticeships. These vary between day release at college for papermaking, and specific long distance learning/external courses for the other two)
Papermaking apprenticeship – following the new UK standard, including a Level 3 qualification in Papermaking (but also covers Level 2 PEO and level 2 BIT)
Controlling (finance) apprenticeship (minimum 2 years) – CIMA Certificate in Business Accounting (CBA) qualification and be able to progress to full chartered status with CIMA
Safety, quality and environmental apprenticeship (their course is dependent on if they specialise in Safety or environmental after the first year, but generally meet level 3 qualification in specialised field)
2 year apprenticeships (based on day release with training provider)
Converting Operator apprenticeship – covers PEO level 2
About Essity
At Essity we are dedicated to improving well-being through leading hygiene and health solutions. We believe every career is as unique as the individual. To grow as a business and achieve our ambition of increasing hygiene standards across the globe we need people who believe in what they do, people who want to contribute to the wider picture and people who have a motivated mind-set and passion for innovation.
Working with Essity is not just a career; it is a chance to directly make the world a healthier, more hygienic and safer place. Essity is a leading global hygiene and health company that develops, produces and sells Personal Care, Consumer Tissue and Professional Hygiene products and solutions.  We have about 48,000 employees and sales are conducted in approximately 150 countries.
The business operations are based on a sustainable business model with focus on value creation for people and nature. Learn more about Essity's vision here: http://www.essity.com/en/About_Essity/
Other Available Titles
Stream Time: 13/03/2018 9:30 am

Category: Careers

A live interactive session with an apprentice from GSK

Speakers: Alexandra Ellis-Jones, Engineering apprentice

Duration: 30 minutes

Stream Time: 09/03/2018 9:30 am

Category: Careers

A live interactive broadcast with an apprentice at Northern Devon Healthcare NHS Trust

Speakers: Anna-Marie Searle, Receptionist & GP Trainee Support Administrator

Duration: 30 minutes

Stream Time: 06/03/2018 9:30 am

Category: Careers

A live interactive broadcast with apprentices at J.P.Morgan. Mitch Tucker & Kayla Castagnola as the current apprentices and Divya Soni as the alumni.

Speakers: Mitch Tucker & Kayla Castagnola as the current apprentices and Divya Soni as the alumni.

Duration: 30 minutes