Need Assistance?
If you are a school or college Learn Live is FREE to use. This also applies to parents and students who can access the channel from home. Join here
Apprenticeships at Hinkley Point C featuring Balfour Beatty (Broadcast Length 14 Minutes)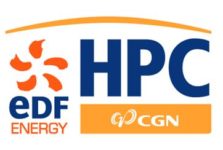 Hinkley Point Apprenticeships (Broadcast Length 14 Minutes)
Want to know more about the exciting  opportunities at Hinkley Point apprenticeships?
Apprenticeships at Hinkley Point C' was a live streamed event focused on the apprenticeship programmes at Hinkley Point C. The broadcast featured members of the Balfour Beatty team working on the HPC Project who shared their stories and gave advice on the application process.
The live chat is open now next to the video player so feel free to leave us a question or comment and we'll get it forwarded to the panel from Hinkley Point C in advance of the broadcast.
Broadcast length 20 minutes
The Broadcast is in association with the Heart of the South West LEP Careers Hub, Women into Nuclear UK, Skill Up Somerset and the Somerset Education Business Partnership.
About EDF Energy (Hinkley Point C)
The first new nuclear power station to be built in the UK in over 20 years; Hinkley Point C in Somerset will provide low-carbon electricity for around 6 million homes, create thousands of jobs and bring lasting benefits to the UK economy.
Construction and operation of Hinkley Point C will create 25,000 employment opportunities, up to 1,000 apprenticeships and 64% of the project's construction value is predicted to go to UK companies. There are currently over 3,500 workers on site.
Marking a significant milestone in the revitalisation of our nuclear power industry, Hinkley Point C will make a major contribution to the UK's move to reduce carbon emissions. The electricity generated by its two EPR reactors will offset 9 million tonnes of carbon dioxide emissions a year, or 600 million tonnes over its 60-year lifespan
@edfehinkleyc
For more information about our broadcasts click here.
https://www.edfenergy.com/energy/nuclear-new-build-projects/hinkley-point-c/for-teachers-students-and-educators/young-hpc
Alexandra Ryan

Tunnelling Shift Manager, Hinkley Point C Marine Works

My name is Alexandra Ryan, I work for Balfour Beatty as a Spray Concrete Lining, SCL, tunnelling shift manager at Hinkley Point C project in Somerset.

I have been working within the Mining & Tunnelling industry since I graduated from the Camborne School of Mines in 2013 and have been lucky enough to work in Africa, Australia and the United Kingdom.

My core job is to ensure the safe and productive running of the SCL gang and technical team as part of a 24-hour operation to form a network of tunnels for HPC's cooling water system.

I couldn't imagine working in another industry, being part of such a large and diverse project such as Hinkley point C is what I had always hoped for while I studied my mining engineering degree.

Caitlin Garry

Commercial Apprentice, Balfour Beatty

My name is Caitlin Garry and I am a Commercial Apprentice for Balfour Beatty, working in the Offshore Team on the HPC project.

I have been an apprentice for 2.5 years now, since joining the company after completing my As Levels. I have been fortunate enough to work in a variety of teams across the project and hope that as my career develops my portfolio of work will grow.

Now I am part of the HPC project and working towards a career in construction, I couldn't imagine doing anything else, its currently one of the largest construction projects in Europe and in years to come I can proudly say I was part of it.
learnliveuk.com is operated by Learn Live Limited registered in England under company number 08812253, whose registered address is Chorley Business and Technical Centre, Euxton Lane, Chorley PR7 6TE
FAQs
Contact Us
Help
For best results please use Google Chrome on a PC/Laptop or Safari/Firefox on a tablet device.
If you have any technical difficulties please email bookings@learnliveuk.com or call the Learn Live team on 01257 446010