Register Now
If you are a school or college the Learn Live channel is FREE to use. This also applies to parents and students who can access the channel from home. Join here
Apprenticeships LIVE with Pret A Manger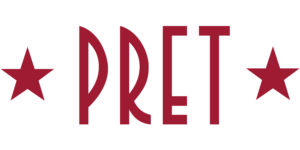 Apprenticeships LIVE with Pret A Manger
Want to know more about the exciting apprenticeship opportunities at Pret A Manger?
Apprenticeships LIVE is a live streamed event that broadcasts to thousands across the country wanting to find out more about apprenticeships and the exciting developments happening within different companies and sectors.
This live event focused on the apprenticeship programme at Pret A Manger. The live broadcast featured some apprentices and a recruiter who shared their stories and provided advice on the application process.
The LIVE CHAT is open now next to the video player so feel free to leave a question or comment and we'll get it forwarded to the team from Pret A Manger.
Video length 20 minutes
About Pret A Manger
College friends, Sinclair and Julian, opened the first Pret A Manger in London in 1986. It was a shop with a mission to create handmade food, freshly prepared each day. The two of them had woefully little experience in the world of business. They created the sort of food they craved but couldn't find anywhere else. 30 years on, the mission remains unchanged.
Pret operates a bit like a restaurant. We build kitchens in (or very near) every shop. You won't find 'sell-by' dates on our fresh sandwiches and salads. Our milk and coffee is organic. We offer our unsold food to charity at the end of each day rather than keeping it to sell the next day. We believe in good jobs for good people and we're looking for more to join our team. Our wonderful hardworking people make all the difference. They are the heart and soul of our business.
Max Trapani

Recruitment Advisor – Apprenticeships Pret

Max is responsible for attracting the best young talent onto Pret's Apprenticeship and ensuring they have a great onboarding experience and continued through Pret.

Max has a passion for Pret and Apprenticeships and enjoys engaging with schools and colleges through partnerships to promote the benefits of Apprenticeships.

Max is part of Pret's Early Careers team who are committed to giving young people the opportunity to be a part of an innovative Degree Apprenticeship.

Naomi Almonte

Level 2 Apprentice in Hospitality at Pret

Naomi wanted to try something new, "I didn't know what I want to do when I am older, and apprenticeships are the best way to learn so I wanted to experience something different."

Naomi would go to Pret with her mum and when she looked online for apprenticeships Pret came up and it looked like a good programme and she liked the idea of a degree apprenticeship.

Naomi says, "Since working at Pret I have learnt how to manage my time better whether it be working in the kitchen on food production or in other areas of work, in the beginning it was harder. My pace in the kitchen has really improved too as in the beginning it was difficult to be quick."

"I would like to be a manager and run my own shop one day. I am currently deciding which key role or path I want to take but I want to try new things and experience different options as I go along."

Renata Turrell

General Manager at Pret

Renata has 20 years experience as a General Manager (GM) in Pret and currently has 2 apprentices as part of her shop team.

Renata has a passion for developing Prets future talent and has a track record of training and promoting Team Members on to management level and onto roles in our Head Office. Renata has also worked with Pret's charity by employing and training homeless people.

In her area Renata is a point of reference for her peers on all People issues thanks to her continued commitment to creating an environment where people can learn and improve.