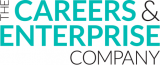 Careers and Enterprise Company – EC Apprenticeship Specialism Webinar Part 2
A live interactive webinar with the Careers Enterprise Company
I have registered for the on demand
I need to register for the on demand
Register now
This session will cover:
This session will provide an overview of the aims and objectives of the EC Specialism pilot including some suggested approaches for delivery and the metrics we will be using to evaluate impact. The webinar will also include the learnings from the Leeds City Region LEP and West Yorkshire Learning Provider EC Specialism pilot which has been running since 2016.
About The Careers and Enterprise Company
The Careers & Enterprise Company exists to prepare and inspire young people for the fast-changing world of work by creating career opportunities and connections to potential employers.
We have built a national network to connect schools and colleges, employers and career programme providers. We are working on the ground with these schools and colleges to help create high-impact careers opportunities for young people.
Other Available Titles
Stream Time: 31/10/2019 2:30 pm

Category: Special events

This broadcast will feature author AJ Hartley, and illustrator Janet Pickering, of the books Cold Bath and Written Stone Lane who will be holding a LIVE read of his new book Written Stone Lane.

Speakers: AJ Hartley, Author

Category: Health

This broadcast featured Inspector Becky Warren from the British Transport Police, who held a live read of the new Thomas the Tank Engine book, Stay Safe with Thomas.

Speakers: Inspector Becky Warren, British Transport Police

Duration: 7 mins

Stream Time: 06/11/2019 11:00 am

Category: Special events

This broadcast will feature Ayo Sokale, a graduate engineer from Environment Agency, who will hold a live read of the book Alba the 100 year old fish

Speakers: Ayo Sokale, a graduate engineer from Environment Agency

Duration: 15 mins