Need Assistance?
The LIVE CHAT is always open next to the video player so feel free to leave a question or comment for our panel of experts.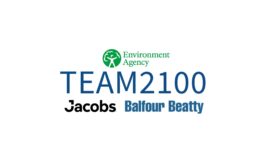 Engineering your Future with Team 2100
Think you know about Engineering? Think again… Engineering your Future with Team 2100 is brought to you by Balfour Beatty and Environment Agency as they join forces for the biggest Engineering broadcast of 2020!
This live streamed event was broadcasts to thousands of people across the UK. Our interactive event featured a Q&A session with industry professionals, trainees, and young people who are curious about a career in engineering.
The LIVE CHAT is always open next to the video player so feel free to leave a question or comment for our panel of construction experts.
Please note: all Learn Live broadcasts both LIVE and On Demand are accessible to all parents and guardians at home.
About TEAM2100
The 10-year, TEAM2100 program to refurbish and replace tidal flood defences in London and the Thames Estuary is the Environment Agency's single largest flood risk management program in England and one of the U.K. Government's top 40 infrastructure projects.  Working in an integrated team with the Environment Agency and Balfour Beatty, our job is to inspect, refurbish and maintain flood defences along 175-kilometres of the River Thames and reduce the risk of tidal flooding to protect 1.3 million people and some £275 billion worth of property in London, Essex and Kent over the next 100 years. On a program this vital, some might call it too risky to trailblaze new technologies or apply innovations with the future of so many hanging in the balance.
About Balfour Beatty
Balfour Beatty is a leading international infrastructure group. With 26,000 employees, we provide innovative and efficient infrastructure that underpins our daily lives, supports communities and enables economic growth. We finance, develop, build and maintain complex infrastructure such as transportation, power and utility systems, social and commercial buildings.
Balfour Beatty careers are a fantastic opportunity for school and university leavers if you're keen on personal development. When you join us, you'll soon realise how much more there is to construction than you initially thought. With Balfour Beatty jobs and careers offered all around the UK at a wide range of locations, there are a multitude of different types of Balfour Beatty apprenticeships you can take advantage of including:
Digital Engineering
Procurement
Mechanical Engineering
Quantity Surveying
Business Support & Admin
Plant Maintenance
Here at Balfour Beatty, we feel there are a number of reasons why it's special to work for us. Not only have we got a shared vision and responsibility to help millions of people but we are also dedicated and committed to the personal development of each and every employee that works for us. Whether you've worked for us for 10 years of you've just been taking on as Balfour Beatty apprentice, we'll give you the trust and confidence you need to make a great start in your career at an outstanding, well-established company.
Balfour Beatty Careers
Apprentice applications open towards the end of January and close the end of April/May
The careers website is https://www.balfourbeattycareers.com/early-careers/apprentices where we have videos and advice for future apprentices
There are a number of roles still advertised via the careers website above, just click on Apply Now on the webpage
About Environment Agency
We are the Environment Agency. We are the biggest and most wide-ranging environmental regulator in Europe. We work with businesses and communities to protect and improve the environment, for people and wildlife. And the need for our work is becoming ever more important.
We protect and improve the environment across England to:
reduce the risks to people and properties from flooding
help businesses and communities adapt to climate change
reduce pressures on biodiversity
help businesses to make sure they don't harm the environment through pollution or taking too much water
issue licences and permits, and take action against people who don't take their environmental responsibilities seriously
None of this is possible without a multi-talented team of professional and dedicated people. And just like the environment we help to care for, we're home to an incredible diversity of skills and knowledge.
Today, we employ more than 12,000 people throughout England in a wide range of roles. You'll find leading scientists and prominent geologists alongside public relations professionals, planners and policy advisors. We employ lawyers, enforcement officers and engineers, conservation scientists and marine biologists. And of course we have a wide team of support staff. We employ people at all stages of their career, from recent graduates to experienced leaders and internationally-renowned experts.
Jacobs
With a talent force of approximately 55,000, Jacobs provides a full spectrum of professional services including consulting, technical, scientific and project delivery for the government and private sector. Jacobs is delivering challenging programmes which benefit communities, cities and the economy – programmes which are central to building the UK's future.
We look for enthusiastic, diverse talent from around the world and provide opportunities for them to begin their careers. Our early career programmes provide opportunities for graduates, interns, co-ops and apprentices.
Successfully managing community projects, initiatives and school programmes at a local, regional and global level, we believe the key to success is through the partnerships we've established with external agencies, local councils, our supply chain and our clients. Working collaboratively has allowed us to develop a robust set of systems and processes.
Jacobs offers young learners the opportunity to get involved in our programmes and learn all about working in the sector and the routes of entry. We work with students and teachers to develop and support extracurricular activity in a fun and friendly manner. Our educational programmes are designed to give students a real insight into the world of our services as well as develop skills such as communication, presentation and team working – skills that can help build confidence and prepare young people for the world of work.
As part of our engagement we offer a number of programmes including art projects, employability workshops, interview techniques, CV preparation, careers advice, building challenges, safety awareness and mentoring.
Visit jacobs.com and connect with Jacobs on Facebook, Instagram, LinkedIn and Twitter.
Lindsay Peddie

Senior FCRM Advisor, Environment Agency

Lindsay has worked in Flood and Coastal Risk Management (FCRM) in the Environment Agency for 16 years.  She is currently working with TEAM2100 to secure external funding from partners to enable maintenance and replacement works to take place on the tidal flood defences in the Thames estuary.

At school Lindsay took science A-levels and went on to study Environment Management at University.  Lindsay started at the Environment Agency in the Development and Flood Risk team assessing planning applications and advising on flood risk to new developments.  Here she completed a MSc in Hydrology sponsored by the EA.   She later led FCRMs role nationally in the Water Framework Directive and specialised in the adoption of the Eel Regulations.  Before joining TEAM2100 Lindsay led on land use management for FCRM to manage flood risk for the Environment Agency. She influenced and worked with external partners and government organisations nationally on Defra's Countryside Stewardship and as a result flood risk management was included in the scheme.

David Bacchus

Section Engineer, Balfour Beatty

David Bacchus is a Section Engineer working for Balfour Beatty on the TEAM2100 framework. David first joined Balfour Beatty back in 2013 during his University degree for his year-out in industry. This provided him with the great opportunity to experience and undertake the role of a Site Engineer constructing the new platform tunnels for Whitechapel Crossrail station. From this point onwards David has never looked back, working on a diverse range of projects and gaining various experiences; from setting out various reinforced concrete and steel structures to managing subcontractors, developing construction programmes and methodologies, overcoming challenges and finding solutions. David is passionate about his work and is always willing to get stuck in, collaborate and work with all sectors of the TEAM2100 delivery team. He is currently assisting the Project Manager in pre-construction on an exciting multiple lock gate replacement and flood defence upgrade scheme. Having achieved EngTech membership status with the Institute of Civil Engineers, David is also working towards achieving Chartered status.

Steve Woodger

Senior Project Manager

I started my career 47 years ago when I  left school, I did not know really what I wanted to do. I did contemplate on being a photographer, I even bought a camera. Another option was a hairdresser!  Now that would have been a mistake. All I did know is that I didn't want to be sitting behind a desk every day and going into banking or accounting as it seemed to be the thing to do at that time. I was asked by my friend's brother one day if would be interested in a position as a site engineer. That was the start of my 47 year career and I am fortunate enough to say it's been an enjoyable journey and have met and worked with some great people, some of whom are still friends to this day.

My journey thus far has allowed me to gain so much experience covering many work types from Main Drainage schemes in rural Kent, Quarry blasting for new industrial estate, highway construction, new power supplies to North London to  Deep shafts and Tunnelling, Cross rail and now TEAM2100 to name but a few. During this time I have covered all aspects of construction, including Estimating, Planning, Construction, Quantity Surveying, Procurement and managing sub-contractors.

I joined Balfour Beatty in January 2015 as  Project Manager when the scheme had just started with a team of about 20 people, today we are 160 + people strong and working from offices in central London, Canary Wharf and the Thames Barrier. The programme consists of The Environment Agency as the Client, Jacobs as the Design and Consents team and Balfour Beatty as Principle Contractor and delivery arm spanning the 10 year framework. One unique factor that is so important for all new people joining the programme is that you are able to work on a scheme/ project that takes it along its entire Gate life cycle programme from Conception all the way to delivery, commissioning and handover to the client. Every scheme we have undertaken in 5 years are all different (with the exception of one) covering M&E, Marine works, Communications, upgrade of Fire systems and monitoring, Civil Engineering and  Site Investigation.

Abby Crisostomo

Strategic Asset Management Senior Advisor, Environment Agency

Abby leads on strategic asset management for tidal flood risk and climate change in the Thames estuary for the Environment Agency as part of the Thames Estuary 2100 Plan. She also chairs CIWEM's SuDS and Water Reuse Policy Leadership Group.

Abby works on policy, planning and strategic delivery with a focus on the intersection of environment, community and development. Prior to the EA, she led on climate adaptation and green infrastructure for the Greater London Authority; delivered sustainable design and construction for KLH Sustainability, including London Olympic Park legacy projects; and worked on environment and social policy and planning in the US at the Metropolitan Planning Council and the Alliance for the Great Lakes.

Matthew Arthur

Senior Advisor, Environment Agency

I left college early (at 17) to pursue a career in traditional boat building full time. While I enjoyed, this I was not the best carpenter and I decided it was not the best career to be in, as it is not exactly a growth industry. I then did one year in working warehousing.

And then with my maths A level, and Physics AS, was accepted onto a foundation trainee course with the Environment Agency (EA), in 2008.

This course was an ideal introduction to the EA with a blend over academic learning and placements in five different flood risk teams in London. I qualified with a foundation degreed in 2010. I then worked in a town planning team for the EA for 2 years, before moving to Asset Performance (AP) team where I have been for the last 8 years. During this time, I have also continued my academic studies (sponsored by the EA)  alongside my day job. There have been a few set-backs and challenges associated with working full time for a large public body and studying, but I have recently completed my Masters in Flood and Coastal Engineering. I have also just started on a National secondment focused on flood risk modelling for asset management and other data challenges.

My day job for the asset performance team was very varied, our teams role was to ensure the integrity of over 200 kilometres of walls and embankments owned by others (not the EA), that are integral to keeping the north sea out of London. Critical to our teams work is the regular inspection and investigation of these assets, my role was not only to utilise our various data sources to direct our resources (e.g. further investigations and remediation works etc.), but also to investigate and deliver new and innovative techniques for the capture storage and dissemination of data – such as the boat based LiDAR data techniques I discuss in the video.

My work with AP was very varied, and as well as the technical aspects, people skills and working with others is key. As well as our own internal works and investigation a key part of the team's role is prevent others from putting London at risk through their work. I have advised many third party schemes, including major infrastructure projects such as Tideway and Silvertown tunnels. This involved not only providing technical advice and data to the external project teams, but also a significant amount of work prior to this, with the internal (EA) legal and planning teams to put the legal framework in place to ensure London's (tidal) flood risk protection continues throughout these third party schemes.

Stefan Attfield

Site Agent | Thames Estuary Asset Management 2100 Programme (TEAM2100)

Stefan has worked in the civil engineering industry for 13 years. Stefan's career started with an apprenticeship which gave him a unique mix of academic learning and workplace experience. He has progressed from design apprentice to design engineer, site engineer to site manager, working for some of the top civil engineering and construction companies along the way.  Stefan is passionate about delivering projects within budget, to programme and with zero defects. Stefan is currently managing a flood defence project along the River Thames.

Helena Henao-Fernandez

Deputy Programme Director | TEAM2100 Environment Agency

Helena Henao-Fernandez has been involved in the Asset Management and Tidal Flood Risk Protection for London and the Thames Estuary for the last 14 years. A Chartered Civil Engineer and Fellow Member of the Institution of Civil Engineers, Helena has more than 23-years experience exercising the profession on a wide range of strategic infrastructure projects in different countries. Her passion for flood risk management in the River Thames is currently fulfilled at her current role as Deputy Programme Director for the Thames Estuary Asset Management Programme (TEAM2100). In this role Helena is the lead on behalf of the Environment Agency in the United Kingdom for the first phase of a 100-year flood risk management plan for the Thames Estuary. The programme is estimated to cost £3 billion over the next 40 years and requires £308 million of asset management investment during the first 10-year implementation.

Katie Boon

Environment Agency.

Katie works as a Technical Advisor in the Asset Performance Team at the Environment Agency. She works to manage the life cycle of flood risk assets, including earth embankments, seawalls, pumping stations, flood storage reservoirs and control structures that are located on main river watercourses within the North Kent Catchment. This is achieved through undertaking regular assessments of the condition of the assets in order to identify, plan and commission future works. The part of the role that Katie is most passionate about is her involvement in the Thames Estuary Asset Management 2100 (TEAM2100) team, which is the mechanism for delivering the first 10 years of investment in the tidal flood defences included within the Thames Estuary 2100 Strategy.

Rianne Hopkins

Graduate Civil Engineer, Balfour Beatty

Rianne is a Graduate Civil Engineer working for Balfour Beatty as a part of TEAM2100. She is currently working on a project at the Thames Barrier where she reviews and coordinates designs and communicates ideas with those working on site. Her role also involves liaising with subcontractors regarding specifications, their programmed works and design developments and changes.

She studied A Levels in Maths, Physics and Economics followed by a BEng in Civil Engineering at university and has been working on TEAM2100 for one year.

William Mathew

Thames Estuary Asset Management 2100 Programme (TEAM2100)

William didn't do as well has he hoped when completing his A-Levels, which meant he was unable to attend the University as he had planned. After working in the retail management sector for 6 years  William decided he wanted a change of career, joining Jacobs apprenticeship programme gave him the opportunity to do this. After completing a two year BTEC he was able to join the Civil Engineering Apprenticeship degree at Kingston University, and is 3 years into the 5 year course. On completion of the course William aims to become an Incorporated member of the ICE which will set on the path of becoming a chartered Engineer.

William currently works for Jacobs on the TEAM2100 programme, which is tasked with improving London tidal defences. He is based at the Thames Barrier and has been involved in a number of different project in range of subjects which has helped broaden his experience in, construction assurance, options appraisals, sediment tracing, outline design, cost and change management.

Kate Young

Thames Estuary Asset Management 2100 Programme (TEAM2100)

Kate is a Chartered Mechanical Engineer with experience encompassing strategic safety and asset management planning, spanning both the construction and defence sectors and major programmes such as Crossrail.  Approximately 10 years ago she took on the role of Technology Manager, helping bring together leading industry and academic thinking to help facilitate real change on projects and encourage collaborative innovation.  As part of this work she had the opportunity to go back to University to undertake a DPhil with the Infrastructure Transitions Research Consortium (ITRC) at the University of Oxford, focusing her research on long-term decision making for infrastructure projects, particularly the use of flexible adaptive approaches that is at the heart of the Environment Agency's Thames Estuary Asset Management 2100 (TEAM2100) programme – the £300m, 10-year pathfinder programme managing the tidal flood defences of the Thames Estuary where Kate currently holds the role of Innovation Manager.

In parallel to her role on TEAM2100, Kate sits as a core member of the  Asset Management Advisory leadership team in Jacobs and leads on innovation and digital disruption for the Strategic Consulting Operating Unit. More widely, Kate is a member of the Infrastructure Industry Innovation Partnership (i3P) Delivery Leadership Group, Co-Chairing the i3P Community to build engagement and collaboration between infrastructure sectors and programmes.