Register Now
Please leave your questions for the team behind Forces LIVE by using the LIVE CHAT facility.
Michaels Story

James Story (Aircraft Engineer Technician)

Adam - Engineer Interview

Dannys Story (Weapon Engineer)

Emily's Story (Submariner)

Whats it like being a Writer in the Royal Navy

Thomas - Logistics Writer Interview

Morgans Story - Chef Submariner

Nathan - Chef

Beccys Story - Medic

Ryans Interview - Medic

Jessica's Story - Qualifications

Shantels Story - Training

Royal Navy Engineers - Recruiting Now

Jamal's Story (Submariner)

What training do Royal Navy Officers get?

Royal Navy Apprenticeships

Tebug - Interview

What will a Royal Navy Apprenticeship be like?

Made in the Royal Navy - Nathan's Life On Board

Royal Marines Fitness

Kallums Story - Royal Marine

Made in the Submarine Service – Ciaran's Story
RAF advert

introducing the RAF segment

Answering Myths

Lee, Force Protection

Air Operations Support

Shevonne

RAF Regt Gunner

Weapons Systems Operator role

My 2 homes

Benefits

Logistics

Tony talking about our new hair policy

Chef

Personnel support and being a mum

QRA

Phil talking about his career and trade

Female EngO

Int An Linguist

Int An

Doctor

RAF Medic Female
Forces LIVE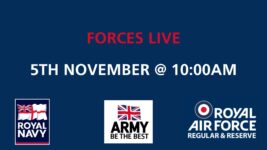 Forces LIVE
(Available On Demand)
Royal Navy
In times of peace and conflict, the Royal Navy is key to Britain's prosperity and success. We help to stabilise the seas, keeping the maritime trade that's the lifeblood of the UK economy flowing. We act as a guardian and a diplomat, as a humanitarian force for good, and a peacekeeper on the global stage. The Royal Navy is active and fully engaged around the world. Our ships, submarines and personnel operate in every ocean and continent, protecting our nation's interests. No matter what job you do, you'll be a key part in operations around the world. Are you ready to go places? – To find out more watch the videos below. To register an interest in the Royal Navy – click here.
British Army
The British Army protects the United Kingdom's interests at home and abroad, providing a safe and secure environment in which all British citizens can live and prosper.
We offer over 76 different entry level jobs, and in each and every one of these positions are opportunities for gaining skills and qualifications. No matter what your background or experience, you can find where you belong in the British Army.
We'll help you uncover strengths you didn't know you had, and you'll feel the benefits not just for your Army career but wherever your career leads afterwards.
Royal Air Force
The Royal Air Force (RAF) provides air and space power to protect our nation. For over a hundred years the RAF has defended the skies of Britain and projected Britain's power and influence around the world. We will give you opportunities you won't find in any other career. The experience you gain with us will equip you to work at the top of your field, both in the UK and overseas. To find out more watch our videos below. If you'd like to apply click here or if you would like to arrange to talk with someone or book a virtual outreach event for your organisation please email AFCOLondon-RAFEventsSE@mod.gov.uk