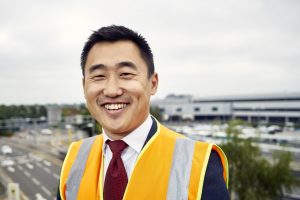 Live Q&A with Kan Ni, Airfield Ops at Gatwick Airport – Friday 28th September @ 9.00am
Join us on Friday 28th September at 9.00am for a unique opportunity to meet Kan Ni, part of the Airfield Ops team at Gatwick Airport for a live Q&A on the Learn Live channel.
Meet the Head of Airside Kan Ni and his team who look after the world's busiest single runway airport – 24 hours a day – 365 days a year. Find out what an Airside Flow Planner does on a daily basis compared to an Airside Operations Manager.
Broadcast length 30 minutes (9.00am-9.30am)