Register Now
Please feel free to leave a question in the chat and a 1st Enable Ltd – Valorum Care Group representative will be in touch.
1st Enable Ltd - Valorum Care Group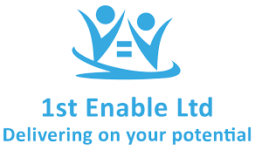 1st Enable Ltd – Valorum Care Group
1st Enable have been working in the supported living sector since 2012 for people with learning disabilities.
Some of our founding members and employees originally worked in NHS assessment and treatment wards, including our Clinical Director Sarah Dawson, who was an experienced ward sister.
This experience gave us first-hand insight into the fact that hospitals and other registered services were often needlessly restricting personal independence and quality of life.
So, we set up a new model of community-delivered care and support, built on continually evolving and responding to individual needs and ambitions.
Our organisational culture is based on being a supportive environment and one which encourages choice from the start.
We exercise human rights in a carefully staged and engaging way, ensuring nobody feels scared or uneasy about the life journey they want for themselves.
We adopt person-centred tools to provide the best support possible and we understand the importance our employees play in delivering the correct levels of care.
The impact of our approach has helped us rapidly grow, to the point where today we are running services across the North of England and Wales and continuing to expand the offer into other parts of the UK.