Register Now
Students, teachers and parents of Abbeyfield School can ask questions to employers on the LIVE CHAT next to the video player.
Abbeyfield School
Please use the search options above to find jobs, apply and chat to employers.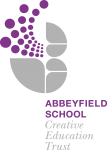 Abbeyfield School
The school has celebrated some fantastic results in in the last 3 years at GCSE and A level, a testament to the hard work and commitment of the staff and students. We are very proud of all the students at Abbeyfield and have high expectations and aspirations for them. I work with an impressive staff team, they go the extra mile to ensure that every student has the opportunity, support, and challenge they require to be able to achieve their personal best.
The facilities at the school are outstanding. Students recognise this and are proud to be part of Abbeyfield. On appointment I worked with the staff and students to review our mission and values. A student and staff vote resulted in the values of Respect, Independence, Resilience, Honesty, Responsibility and Creativity. These are evident every day in school life. We provide high quality pastoral care for our students and are committed to providing them with a range of exciting and creative opportunities to ensure that their school experience is rich and varied.