Register Now
Please feel free to leave a question in the chat and an Adecco representative will be in touch.
Adecco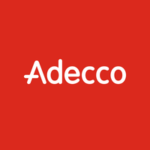 Adecco
If you're looking for a job, we can help you get in the door at some incredible companies.
Need to hire good people?
We know thousands. Let us introduce you.
No matter where you are, we can help you get where you want to go in your career.
The Adecco Group, based in Zurich, Switzerland, is the world's second largest Human Resources provider and temporary staffing firm, and a Fortune Global 500 company.
Our consultants work with some of the best, and most exciting, companies all over the world.
We equip our clients with priceless industry insight and put everything we've got into training and mentoring our candidates.
We're here to match talented people with the job opportunities and employers they're looking for.
On any given day we connect over 700,000 people with fulfilling opportunities that make the most of their skills now and enable them to develop new expertise for the future
Every job and every job seeker is different. Regardless of your background or your situation, we connect all types of workers with awesome opportunities.
It's great to work in a job that helps you realise your potential.
It's even better when you can also help other people realise theirs. Sound like something you'd like to do?
Then join our team here at Adecco.
We absolutely love what we do.
Shouldn't you?