Register Now
Please feel free to leave a question in the chat and an Adult Learning Wales representative will be in touch.
Adult Learning Wales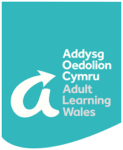 Adult Learning Wales
Move forward with Addysg Oedolion Cymru | Adult Learning Wales
Whether you're looking for a course in your community or to learn online, Addysg Oedolion Cymru | Adult Learning Wales can help. We know the vital difference learning brings to everyone's lives – be this progressing toward a new job, stimulating the mind, learning new skills or keeping socially engaged with others.
As The National Community College and Democratic Movement for adult community learning in Wales, we promote active citizenship, social justice and skills development.
We are the largest provider of Adult Community Learning in Wales and our roots can be traced back for well over a century.
Using a collaborative approach, we deliver quality learning across the whole of Wales, offering pre-entry level learning through to level four qualifications. An active partner in many projects and learning initiatives, we work with Further Education, Higher Education, local authority providers, community groups, trades unions and voluntary agencies, where our aim is to improve the lives of all adults regardless of race, gender or culture.

Symud ymlaen gyda Addysg Oedolion Cymru | Adult Learning Wales
u Os ydych yn chwilio am ddysgu neu gwrs ar-lein neu gwrs cymunedol, mae Addysg Oedolion Cymru | Adult Learning Wales yn medru helpu. Rydym yn gwybod y gwahaniaeth hanfodol y mae dysgu yn ei wneud i fywydau pawb. Mae'r manteision yn cynnwys dysgu sgiliau sy'n gymorth i chwilio am swydd newydd, ysgogi'r meddwl, dysgu sgiliau newydd neu ymgysylltu'n gymdeithasol ag eraill. 
Fel y Coleg Cymunedol Cenedlaethol a'r Mudiad Democrataidd ar gyfer dysgu cymunedol i oedolion yng Nghymru, rydym yn hyrwyddo dinasyddiaeth weithredol, cyfiawnder cymdeithasol a datblygu sgiliau. 
Ni yw'r darparwr mwyaf ar gyfer Dysgu Cymunedol i Oedolion yng Nghymru a gellir olrhain ein gwreiddiau yn ôl ymhell dros ganrif. 
Wrth gydweithio, rydym yn cyflwyno dysgu o safon ledled Cymru gyfan, gan gynnig cyrsiau ar lefel cyn mynediad hyd at gymwysterau lefel pedwar. Yn bartner gweithredol mewn llawer o brosiectau a mentrau dysgu, rydym yn gweithio gyda'r sectorau Addysg Bellach, Addysg Uwch a hefyd darparwyr awdurdodau lleol, grwpiau cymunedol, undebau llafur ac asiantaethau gwirfoddol. Ein nod yw gwella bywydau pob oedolyn beth bynnag eu hil, rhywedd neu ddiwylliant.