Register Now
Please feel free to leave a question in the chat and an Alextra Accountant representative will be in touch.
Alextra Accountant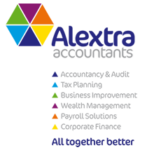 Alextra Accountant
Since Alextra was formed in 2005, we have consistently grown to become a leading accountancy and wealth management firm, based in cheshire servicing clients across England and Wales.
As a firm of five Directors and more than 25 skilled professionals, we are in prime place to provide a tailored partner led service to individuals and businesses.
As an ACCA member firm, our expertise enables us to help businesses of all sizes across a wide range of industry sectors.
At Alextra, we strive to be "all together better" by offering a one stop comprehensive advisory service that exceeds all of your expectations.
Our core competencies are:
Accountancy & Audit
Tax Planning
Wealth Management
Financial Outsourcing
Payroll Solutions
Corporate Finance
Having worked with many different size companies, across a variety of sectors, Alextra can assist and advise on growing your business and improving profitability.
We can help you create or adapt your business plan and set up a systematic approach to optimise your processes in order to achieve profitable results. We work with you and set Key Performance Indicators (KPI's) and monitor the outcomes. Problems are identified and practical effective solutions are provided.
Alextra provide a comprehensive range of services including:-
Business Planning and forecasting
Setting and monitoring KPI's
Identifying the businesses most attractive products and services
Budget Setting and measurement
Establishing financial controls and improving cash-flow management
Raising finance
Clients requirements for corporate finance advice can be varied. However, our advisors are able to help when needed.
Alextra has assisted clients on a number of aspects of corporate finance, including raising capital, corporate restructuring, business valuations, business acquisitions and disposals.
Our senior team work with you to ensure that we have a detailed understanding of both you, your business and your requirements. We can then tailor a practical approach to help you achieve your goals.
Our services include:
Profit and cash-flow forecasting
Liaising with banks and finance brokers
Tax planning
Risk management and asset protection planning
Business valuations