Register Now
Please feel free to leave a question in the chat and an Ashford & St Peters Hospital representative will be in touch
Ashford and St Peters Hospital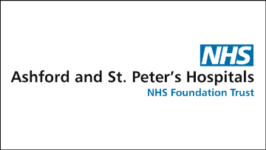 Ashford and St Peters Hospital
Established in 1998 from the merger of Ashford and St Peter's Hospitals, the Trust has been on a long journey of development and improvement to its current position as the largest provider of acute hospital services to Surrey residents. It became a Foundation Trust in December 2010.
Ashford and St Peter's Hospitals NHS Foundation Trust serves a population of more than 410,000 people living in the boroughs of Runnymede, Spelthorne, Woking and parts of Elmbridge, Hounslow, Surrey Heath and beyond. The Trust employs around 3,800 individual members of staff. Our turnover was £343.4m in 2019/20 with a financial surplus of £1.2m.
The Trust provides a whole range of services across its hospital sites. The majority of planned care, like day case and orthopaedic surgery and rehabilitation services, is provided at Ashford Hospital, with more complex medical and surgical care and emergency services at St Peter's Hospital.
Our vision and strategy
We successfully launched our new Trust Strategy: "Together We Care" in May 2018. This strategy was developed within the national and local context of a clear need for collaboration and partnership working to improve the quality of patient care and health outcomes for local people.
It is consistent with local and specialist commissioning strategies and the Surrey Health and Wellbeing Strategy. Although published afterwards in January 2019, there is significant alignment between NHS Long Term plan and our new strategy,
Our refreshed vision
'to provide an outstanding experience and best outcomes for patients and the team'
Our mission
'to ensure the provision of high quality, sustainable healthcare services to the communities we serve'
Our Services
We provide the following hospital and community based health services to our catchment population:
Admitted patient care for planned surgery and emergency medicine and surgery
Accident and emergency services
Critical care
Outpatient services, both in the hospitals and across a number of community settings
Community midwifery services