Register Now
Please feel free to leave a question in the chat and a Barnardo's representative will be in touch.
Barnardo's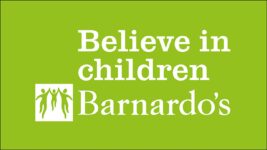 Barnardo's
We've come a long way since our founder, Thomas Barnardo set up a 'ragged school' to help disadvantaged children in 1867.
We don't abandon children because of who they are or what they've done. We listen to them, fight for their rights and do whatever it takes to protect and support them – because we believe that all children have the right to a happy and healthy life.
Read more about our values. At a time when more young people need specialist help with complex issues like sexual abuse, mental health problems and serious violence, our work is more vital than ever. Times have changed and we've changed with them, but our belief in the potential of every child remains. Because this is who we are.
From climate change, to the increasing use of technology, to the looming implications of Brexit.
One in eight children had a mental health condition, more than 4 million were growing up in poverty, almost 100,000 were in the care system, and exploitation and violence had affected too many young lives. It was against this backdrop that the global COVID-19 crisis struck.
he need to support the UK's vulnerable children and young people is greater and more urgent now than ever. In 2019–20, Barnardo's supported work with 358,800 children, young people, parents and carers, across more than 800 services and partnerships throughout the UK, thanks to our 7,822 paid colleagues and around 14,000 volunteers.
Of our service users, 94% said they always felt respected, 92% said they always felt listened to, 88% said that the support was always helpful, and 85% said that they had a say in the decisions made about their support.
Hello, My name is Kells, I'm about to turn 20 but as a non-verbal quadriplegic, my life really began when I was 6, joined the Barnardo's community and was introduced to assistive technology. My eye gaze activated computer enables me to communicate, have an opinion and have my say on issues of the day – issues that impact upon my life. Various groups at Barnardo's have built up my confidence and taught me to be assertive.
It was at Barnardo's that I first felt that someone wanted to hear my views, to listen to them and to take them on board. For the first time I could see a future for myself. In Barnardo's I feel very much part of a team moving forward together.