Register Now
Please feel free to leave a question in the chat and an Indigo Promotions representative will be in touch.
Indigo Promotions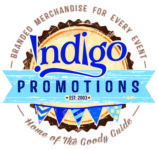 Indigo Promotions
Be Inspired here on the Indigo page with creative and imaginative Promotional Merchandise solutions. Showcasing Classic Favorites along with NEW and Innovative products designed to give you the edge. As well as helpful marketing tips we will bring you our RED HOT exclusive deals not to be missed!
We can help you make your marketing budget work harder for you, achieving maximum impact and return for your investment.
So how will you stand out in the crowds? Carefully selected Promotional Merchandise creates dependable vehicles for brand communication and campaign awareness, and will go on promoting your message long after any event! Promotional Merchandise comes in many regular forms including: Printed Pens – Embroidered Workwear – School Uniforms – Corporate Clothing – Printed T-Shirts – Engraved Awards – Branded Golf Umbrellas – Metal Club Badges – Printed Lanyards – Printed Bags – Bespoke Coin Key Chains – Bespoke Thermometers – Printed Lip Balms – Printed & Bespoke Stress Shapes – Printed Balloons – Flags, Banners & Bunting – USB Flashdrives – Printed Mugs & Coasters – Sports Bottles – Thermal Mugs – Printed T-Towels – Branded Safety and Reflective items.