Register Now
Please feel free to leave a question in the chat and a Juniper Training representative will be in touch.
Juniper Training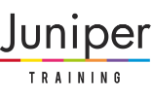 Juniper Training
Operating for over 35 years, Juniper is one of the UK's most experienced providers of training and apprenticeships.
With 14 delivery sites located across the West Midlands, East Midlands and North West, we support in excess of 2000 students per year and work with over 300 employers. Rated as GOOD by Ofsted in all areas of provision, we are ideally placed to support students, adults and employers in bridging the skills gaps between education and employment.
Through continual investment and involvement of employers in the development of our provision, our offer remains relevant, appropriate and engaging. Aligned to local labour market needs, we pride ourselves on our 100% progression promise into apprenticeships, employment or further education.