Register Now
Please feel free to leave a question in the chat and a Leicester & Leicestershire Local Enterprise Partnership representative will be in touch.
Leicester & Leicestershire Local Enterprise Partnership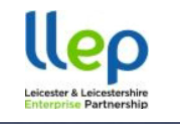 Leicester & Leicestershire Local Enterprise Partnership
The Leicester and Leicestershire Enterprise Partnership (LLEP) was formed in May 2011. Following the government's review of LEPs in 2018 it was recommended that all Local Enterprise Partnerships become incorporated. We became LLEP Limited in April 2019.
The LLEP is a strategic body that exists to drive forward regeneration and growth of the local economy in Leicester and Leicestershire. We are a company limited by guarantee, and are led by a board of directors.
We are working to create a vibrant, attractive and distinctive place with highly skilled people, and to make Leicester and Leicestershire the destination of choice for successful businesses. 
One of our key strengths is our diversity: the diversity of our people, our place and our economy. There is not one sole industry on which the region is economically dependent. Instead, at the LLEP we have a focus on eight key sectors: 
Advanced Manufacturing and Engineering

 

Creative Industries

 

Food and Drink Manufacturing

 

Logistics and Distribution

 

Low Carbon

 

Professional and Financial Services

 

Textile Manufacturing

 

Tourism and Hospitality

 
Challenging ourselves and our partners
How?
Understanding the needs of the local economy
Doing what we know needs to be done (evidence driven)
High quality intelligence
Ability to engage and listen to views of different stakeholders