Register Now
Please feel free to leave a question in the chat and an MPCT Training representative will be in touch.
MPCT Training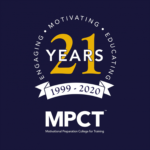 MPCT Training
Since its formation in 1999, the Motivational Preparation College for Training (MPCT) has been dedicated to offering opportunities to young people through training and education. The MPCT is a thriving and distinguished training provider having been graded as outstanding in all areas by Ofsted and, most recently, being named as the TES Training Provider of the Year 2017.
The Motivational Preparation College for Training (MPCT) is resolutely committed to the sustainable development of exceptional levels of achievement for all of its students. 2017 has seen MPCTs' student achievement rates skyrocket to out-perform all national success rates and benchmarks. Ofsted recognised the exceptional levels of success at MPCT in the most recent Inspection, in which MPCT was graded as outstanding in all areas due to its unrelenting belief in changing young people's lives.
Many of the young people who enrol on MPCT programmes have not had a positive experience during their time in compulsory education. This often leads students to present a lack of self-esteem and confidence to fully engage in educational programmes. Without considerable support through imaginative and ground-breaking approaches, these students would fail to achieve their individual goals.
MPCT doesn't rest on its laurels. Following the trailblazing use of Physical Literacy as a vehicle to deliver English and maths, MPCT has continued to develop and enhance the delivery of contextualised English and maths lessons via innovative military skills and sports programmes; these include Functional Skills from entry level 1 to level 2 and GCSEs. The impact is clear to see in the achievement rates of our students with 83.1% achieving English and maths qualifications in 2016/17, 27% higher than the national benchmarks published 2014/15.
The Military Preparation School (MPS) is the MPCT schools provision. It actively supports and complements all local school curricula. The MPS supports partner schools and local authorities in securing accredited vocational qualifications for students across England and Wales.
The Military Preparation School focuses on two main objectives: qualification attainment and developing the skill set required for positive progression to further education, apprenticeships and employment. The MPS provision provides a curriculum for life through preparation for lifelong learning.
The extensive enrichment curriculum programme built into the curriculum allows students to develop a holistic approach to learning and personal development. A high emphasis is placed on numeracy and literacy development. We aren't a boot camp, nor do we push students towards a military career, we are focussed on level 2 accredited qualifications and equipping students with the foundations to achieve and thrive in a changing world.
The Sports and Exercise College is designed for 16 – 18 year olds who wish to gain qualifications and experiences to pursue a career in the sports and active leisure industry. Our sports courses are based in Cardiff Central Youth Club and in Coleg y Cymoedd in Rhondda Cynon Taff.
The staff and Instructors at the Sports and Exercise College are experts in sport, exercise and fitness. Combined with their qualified teacher status and MPCT's Ofsted grade 1 outstanding initiatives and curriculum, the educational experience at the college is highly engaging. In line with MPCT's active learning approach, 50% of every day at the college is practical.
Students can enrol at any time on a full-time course or choose an apprenticeship if they are already working in the sport and active leisure industry. The college has level 1, 2 and level 3 courses on offer.