Register Now
Please feel free to leave a question in the chat and a National Careers Service representative will be in touch.
National Careers Service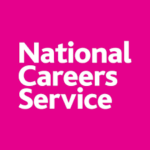 National Careers Service
The National Careers Service provides information, advice and guidance to help you make decisions on learning, training and work opportunities. The service offers confidential and impartial advice. This is supported by qualified careers advisers.
We offer free and impartial information, advice and guidance to help you with your decisions about careers, courses and work.
This service is available to people who live in England and is supported by qualified careers advisers. Careers advice for Scotland, Wales and Northern Ireland are separate services.
Delivered in a flexible way that works around your lifestyle, we provide targeted careers support that helps you identify and address any barriers to getting into, and on in work.
So whether you are out of work, facing redundancy, or currently working and need help making your next move, our National Careers Service team are able to help.
The National Careers Service can help you with…
Understanding your skills, interests and motivations
Finding courses and training
Accessing the latest local and national labour market information
Job searching skills, CV writing and interview techniques
Get in touch:
Access our online services at https://nationalcareers.service.gov.uk/
Call us to arrange a telephone appointment or to speak directly with an adviser on 0800 100 900.
Our helpline is open 8am-8pm Monday-Friday and 10am-5pm Saturdays.
Our career tools
You can use the career tools on our website to:
learn more about the careers that interest you
discover your strengths and skills
find the right courses and training
Our tools can help you whether you're changing career, looking to learn something new or just starting out.
Explore careers
We've got over 800 job descriptions that tell you about:
the average pay for each role
the type of courses you can do to get into a job
the skills you'll need
what you'll do each day
where the job can lead
You can browse through different industries by job category, or search for individual job descriptions if you've got a career in mind.
Skills assessment
Try one of our Skills assessments to learn more about your career skills, strengths and motivations. There are 2 assessments to choose from:
After working through an assessment, you'll get a report summarising your results, including suggestions about the job categories and job roles that might suit you.
Find a course
Use Find a course to look for learning and training opportunities offered by providers contracted with the Education and Skills Funding Agency.
Opportunities include:
college courses
apprenticeships
GCSEs and A levels
hobby and leisure courses
training for 16 to 19 year olds
Advice in other languages
You can speak to a careers adviser in your own language, using our translation service. Call 0800 100 900 and tell the adviser which language you would like to use.
Media team
Contact our media team if you have a press or media enquiry.