Register Now
Please feel free to leave a question in the chat and a New Anglia Local Enterprise Partnership representative will be in touch.
New Anglia Local Enterprise Partnership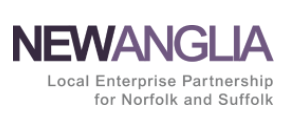 New Anglia Local Enterprise Partnership
New Anglia Local Enterprise Partnership works with businesses, local authority partners and education institutions to drive growth and enterprise in Norfolk and Suffolk.
We are transforming the economy by securing funds from government to help businesses grow, through the delivery of ambitious programmes to ensure that businesses have the funding, support, skills, and infrastructure needed to flourish and ensuring that the voice of our business community is heard, loud and clear.
The Economic Strategy for Norfolk and Suffolk sets out our ambitions to grow our economy, create 88,000 new jobs and 30,000 successful new businesses.
We achieve economic growth by securing public and private investment and delivering a range of programmes and initiatives with partners to improve infrastructure, skills and business support.
The New Anglia LEP team is responsible for the day to day running of the Local Enterprise Partnership.
This includes supporting the New Anglia board, delivering its strategy, liaising with Government, identifying activities to support jobs growth, securing funding and engaging with the business community.