Register Now
Students, teachers and parents of Newman RC College can ask questions to employers on the LIVE CHAT next to the video player.
Newman RC College
Please use the search options above to find jobs, apply and chat to employers.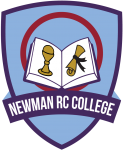 Newman RC College
Newman College is a Roman Catholic Secondary school serving Oldham and the surrounding areas. At Newman College we cultivate and celebrate our distinct Catholic nature through the promotion of 'Dignity and Excellence' for all members of our College family.
"We strive to have the courage to celebrate and live our Christian faith, in love and service to all others, to achieve dignity and excellence."