Register Now
Please leave your questions in the Live Chat and one of the Next Steps Surrey team will get back to you.
Next Steps Surrey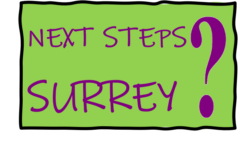 Next Steps Surrey
(Available On Demand)
Thinking about what to do after GCSEs or supporting someone who is?  Then why not watch our Next Steps Surrey Event?
Challenge your preconceptions and join NEXT STEPS SURREY – a free virtual event which will showcase options available for students from across Surrey.
As a student you will be able to:
watch short videos and access interactive content from further education providers, sixth-form colleges, schools, apprenticeship and training providers.
have the opportunity to live chat with representatives during the broadcast and follow-up afterwards.
access all materials  for the full academic year once registered for the event.
As a careers lead or teacher this will support your work on Gatsby Benchmark 7: Encounters with Further & Higher Education.
As a parent this will help provide answers to the many questions you may have about your young person's next steps.
This event is completely free.