Register Now
Please feel free to leave a question in the chat and an NHS Somerset representative will be in touch.
NHS Somerset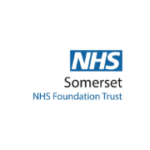 NHS Somerset
Somerset Partnership NHS Foundation Trust provides a comprehensive range of integrated community health, mental health and learning disabilities services to people of all ages.  
We aim to deliver all of our services in close partnership with the patients and carers we serve, in addition to our partners in primary care, local authorities and the voluntary sector.
You can access our services in Somerset from 13 community hospitals, seven minor injury units, and a further four hospital sites from which we deliver mental health inpatient services.  We see people at home, in our community team bases, in GP surgeries and local clinics and in a range of other community settings.  We also provide a number of services outside of the county.
We are committed to developing and delivering care that is personal to you and as close as possible to where you live.  We support our staff to make sure that they continue to deliver these services in a caring and compassionate manner.
We are continually looking at how we can improve the care we provide and your feedback, positive or negative, is important to us.