Register Now
If you are a school or college the Learn Live channel is FREE to use. This also applies to parents and students who can access the channel from home. Join here
Pret A Manger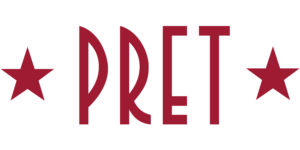 Pret a Manger Careers
Pret a Manger Careers are a great option to look into. Pret a Manger was founded by two college friends – Sinclair and Julian – who had a mutual mission to provide the best fresh and homemade food for people on the go. Although business acumen was incredibly low between the pair, they had a mission and 30 years on, that mission continues on a much larger scale.
If you're looking to become part of an ever-growing team, supportive workforce and something much more than "just a job", then Pret a Manger Careers might just be right up your street. As a team member of Pret A Manger, you'll be well respected and have opportunities to climb the ladder and lead a team.
Your Pret a Manger career is likely to start out with you being an apprentice which offers great benefits and learning curves. When you join us, you can be sure to receive in-depth training, a further opportunity to achieve those all important qualifications and ultimately, career progression.
Unlike many other companies, we don't look at qualifications as the number one sign to employment. We like to look at potential in people and the qualities they have to offer, for now and the future.
Pret a Manger Careers – Why's Now a Good Time to Join?
Currently, we have over 10,ooo employees and we're showing no sign of slowing down! Due to remote working and modern life becoming busier and busier, more and more people are on the look-out for nutritional, home-made and healthy food to takeaway. This is where we come in and provide an exceptional service for all our loyal customers.
Whatever role you're looking for, we feel we have something for everyone. Here at Pret, we believe in good jobs for good people. Our team members are the heart and soul of the business and are still today, our number one asset
Take advantage by using the LIVE Chat facility on this page today and speak to our employers. Alternatively, check out a bit more about us and why a role may be perfectly suited to you here.
Other Partner Pages: