Register Now
Please feel free to leave a question in the chat and an Radis Community Care representative will be in touch.
Radis Community Care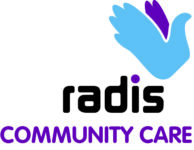 Radis Community Care
Radis Community Care was established in 1998 as GP Homecare.  This was in response to the growing need for community care services.
Our organisation has grown considerably in that time and is now one of the leading providers of community care & support.  We have won several awards in recognition of our hard work and pride ourselves on a set of core values that is embedded into everything we do.
Today we have a network of local branches, with our managers and care staff based close by in your area.  This emphasis on local presence ensures we can provide people with that personal touch throughout the services we offer.
Our aim is to enable you to live independently, for as long as possible, within your own home and for you to be treated with dignity and respect. We expect to support your choices as far as we are able.
We are totally committed to these aims, and have a team of extremely dedicated and hard working staff, delivering our service 365 days of the year.