Register Now
Please feel free to leave a question in the chat and a Robertson Construction representative will be in touch.
Robertson Construction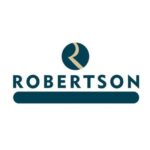 Robertson Construction
Over the years our sustainable growth has enabled us to invest in our business, the future of people and communities, and deliver on major projects, infrastructure, residential and commercial schemes, and facilities management for customers nationally.
Today we have offices across Scotland, the North of England and the Midlands. With our scale and capabilities, we have the ability to accept big challenges and build deep, mutually beneficial partner relationships. At the same time we think locally, working with our stakeholders and the supply chain to deliver services and infrastructure that will stand the test of time.
Ultimately, everything we do is about making progress safely towards a sustainable future for our people, communities and our business. It's the Robertson way.
We've developed our Responsible Business policy, and prioritised key issues within it, through understanding our material issues within the UN Sustainable Development Goals and by addressing how we can ensure the goals are met a local level. The Goals are a series of areas for action across all countries by 2030 and are described by the UN as the 'blueprint to achieve a better and more sustainable future for all'.
We focus on three themes: Our People, Our Partners and Our Planet.
Our people:
Ensuring Team Robertson are safe, healthy and happy
Cultivating a diverse and inclusive workforce who are treated with respect
Empowering our people by providing them with the best learning opportunities and resources
Our Partners:
Engaging communities we work in, creating social value and enabling inclusive growth
Developing and supporting a responsible supply chain
Delivering quality projects, satisfying and supporting our customers
Our Planet:
Minimising our carbon footprint, utilities consumption and environmental impact
Minimising our transport emissions and supporting active and sustainable travel options
Driving down our raw resource consumption and maximising reuse and recycling
As well as our customers and our supply chain, we also work alongside a range of membership, accreditation and industry bodies to help us to remain at the forefront of new and innovative responsible business practices and to benchmark ourselves against others.