Register Now
Please feel free to leave a question in the chat and a TDR Training representative will be in touch.
TDR Training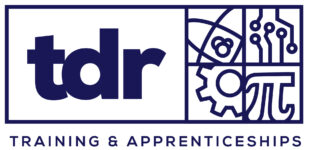 TDR Training
TDR Training is here to encourage young people to take an interest in how things work, help to develop an enthusiasm for a lifelong career and provide encouragement, support and guidance to help them achieve their full potential.
We understand the needs of a business and are able to design and deliver a training solution tailor-made for each one, whatever the sector, whatever the size. We'll start by sending in our Business Support Services Team to conduct a full analysis or training needs to make sure your organisation gets the most effective solution.
Our many years of experience mean we can then help with up-skilling existing employees already in the workforce as well as helping develop recruitment and training strategies and offering bespoke commercial courses in whatever areas you need.
We work with ambitious companies all over the North East, improving workforces, products and market shares.
Can we help you grow?
TDR's mission is to deliver the highest quality, customer-focused training and development experiences.
We achieve together.
We listen and we talk.
We do the right thing.
We challenge fixed ideas.
We continuously improve.
We go above and beyond.
TDR aims to be the first choice, trusted and best, training and development provider.
Achieve financial stability through diversification.
Ensure new and existing customers are satisfied with TDR provision.
Establish compliance against working requirements
Develop, improve and sustain
Whether you are looking for a small off-site meeting room, an impressive interview room, or a training space that inspires focus, we have a variety of rooms throughout the building that can assist you.
The Trust has been operating since the 1990s and has been a driving force in changing the landscape of education and training in the UK ever since.