I have registered for the live stream
I need to register for the live stream
Register Now
YES, ITS FREE
QA LIVE - Tuesday 28th January @ 10:30am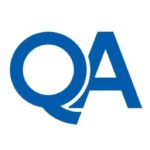 QA LIVE – Tuesday 28th January @ 10:30am
Want to know more about the exciting apprenticeship opportunities at QA?
Apprenticeships LIVE is a live streamed event that broadcasts to thousands across the country wanting to find out more about apprenticeships and the exciting developments happening within different companies and sectors.
This live event will focus on the apprenticeship programme at QA. The live broadcast will feature some apprentices and a recruiter who will share their stories and provide advice on the application process. You will also be invited to ask questions before and throughout the interactive broadcast.
The live chat is open now next to the video player so feel free to leave us a question or comment and we'll get it forwarded to the panel from QA in advance of the broadcast.
Broadcast length 15 minutes
About QA
QA is one of the largest learning services organisations in the UK, developing skills and capabilities for everyone from apprentices to business leaders. Headquartered in London, but with a nationwide network of state-of-the-art training centres, QA Group is comprised of four fast-growing divisions – Learning, Apprenticeships, Consulting and Higher Education – all of which deliver innovative and cutting edge skills solutions to UK organisations.
At QA Learning we are proud to help people and businesses transform their performance through learning. Whether you are looking for an individual course or a full certification programme, they offer a complete range of business and IT training. With training centres throughout the UK, QA delivers an exceptionally broad training curriculum to meet the needs of individuals and corporate businesses. Their award-winning teams of learning professionals are amongst the best in the world, each with extensive experience and a proven track record of delivering the skills that transform performance and ensure lasting benefits.
To find out more about the QA apprenticeship programme visit:-
https://www.qa.com/apprenticeships
@QAApprentices
FAQs
Contact Us
Help
For best results please use Google Chrome on a PC/Laptop or Safari/Firefox on a tablet device.
If you have any technical difficulties please email bookings@learnliveuk.com or call the Learn Live team on 01257 446010