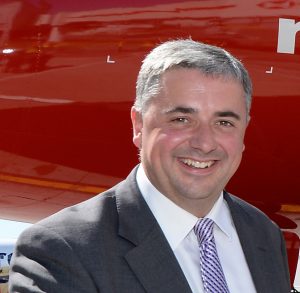 Live Q&A with Stewart Wingate, CEO at Gatwick Airport – Friday 5th October @ 9.00am
Join us on Friday 5th October at 9.00am for a unique opportunity to meet Stewart Wingate, CEO at Gatwick Airport for a live Q&A on the Learn Live channel.
Stewart Wingate joined Gatwick Airport as Chief Executive Officer in December 2009.
Stewart joined Gatwick Airport from BAA Airports Limited where he spent five years in senior management roles at several airports. He was Managing Director of London's Stansted Airport (2007-2009), Chief Executive Officer of Budapest Airport (2005-2007) and Customer Services Director of Glasgow Airport (2004-2005).
Previously, Stewart spent more than 15 years at Black & Decker where he had responsibility for a wide range of functions. He was General Manager of a start-up manufacturing plant in the Czech Republic, Operations Director at the company's manufacturing facility at Spennymoor, County Durham, and European Marketing Manager based in Germany.
Stewart holds a masters degree in Business Administration with distinction and a first-class honours degree in electrical and electronic engineering. He is a Chartered Engineer and a Fellow of the Institute of Engineering and Technology
Broadcast length 30 minutes (9.00am-9.30am)