Register Now
Please feel free to leave a question in the chat and an Addleshaw Goddard representative will be in touch.
Addleshaw Goddard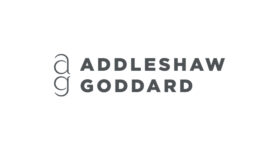 Addleshaw Goddard
If you're looking for an experienced, premium and high-standard law firm, there's no need to look past Addleshaw Goddard.
More than just a traditional law first, our work has long-lasting impacts on the real world.
Just one example that justifies this is the number of institutions we've worked with where we have improved the mobile and digital payment of global companies such as Apple Pay, Android Pay and Samsung Pay.
Furthermore, in 2016, Addleshaw Goddard were awarded the "Most Innovative Law Firm" at the Financial Times Innovative Lawyers Awards. Currently, we're home to over 1,640 employees which spans across over a multitude of commercial centres across the world.
Currently in the UK, we have main offices in the following areas: Manchester, Leeds, London, Dublin, Glasgow and Edinburgh.
With over 240 partners and 1,000 lawyers worldwide, we're constantly looking to expand our reach and service clients that desperately need our help.
Here at Addleshaw Goddard, we have strong values and work ethic that our employees and clients love.